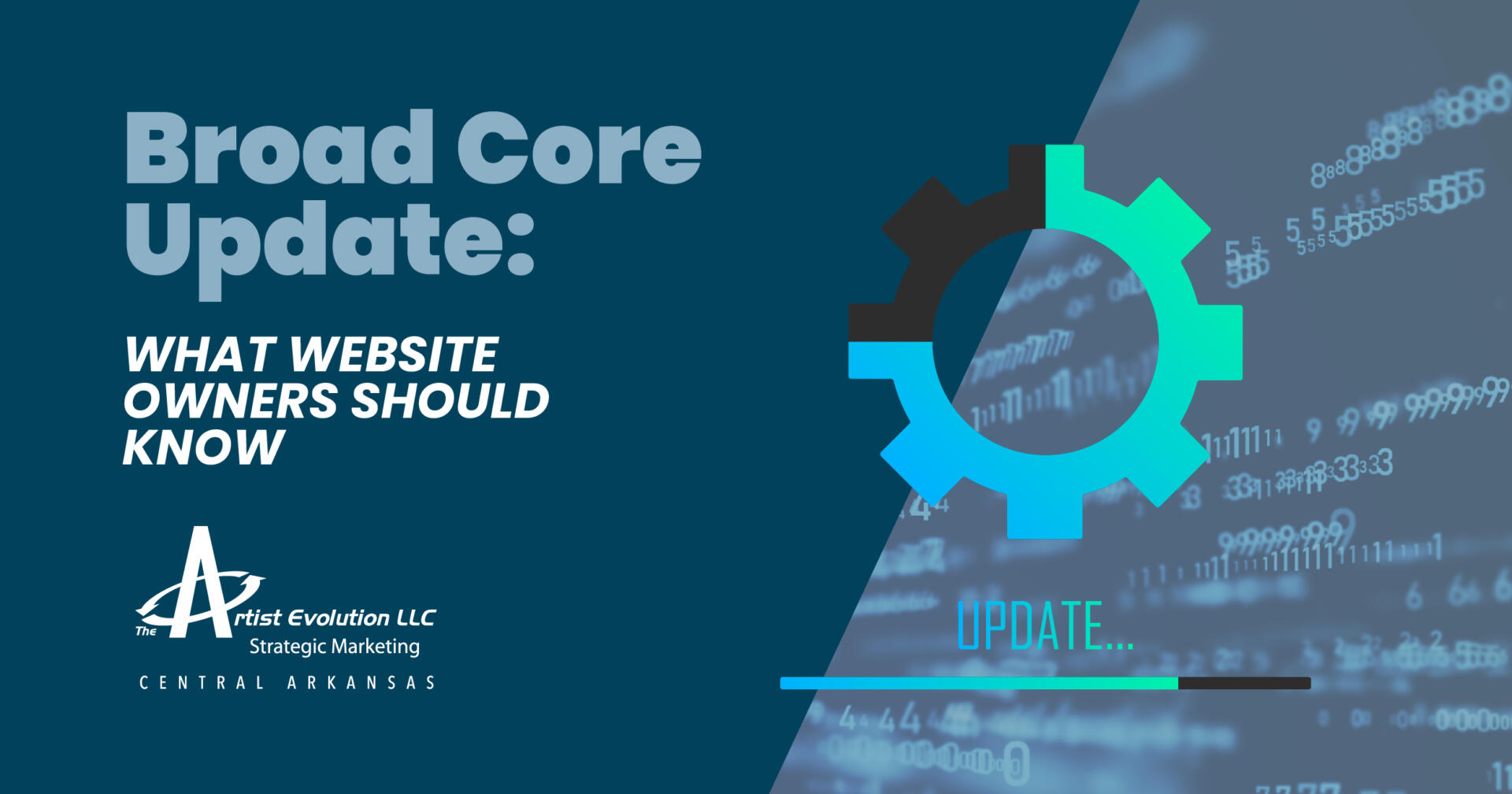 You may have heard of Google broad core updates and if you're like a lot of website owners this can cause some anxiety and have you questioning whether your site's SEO may be negatively impacted or it will stand the test of the oh-so-intimidating broad core update.
So what is a broad core update? These are Google broad core updates rolled out every few months with the specific purpose to improve search results and make search results more relevant for Google users. Essentially, they are updates designed to increase the overall applicability of search results to ensure they're useful to searchers.
The primary focus of broad code updates is a site's content, not necessarily the overall quality of your site. Here's what website owners should know.
It's All About the Goods
Google claims that its algorithm reviews website's for content relevancy… so it's all about the goods. When thinking about broad core updates, you'll want to be hypervigilant when it comes to your content. Here are some questions you should ask yourself if you want to give your content a boost.
Content Quality
Is your content original & comprehensive?
Google bots are looking for quality content that stands out. That means if your content isn't original and matches that of competing websites, it won't stand out. Basically, you want to be an expert with your own ideas presented in unique and compelling ways.
Does your content go beyond the obvious?
Assuming you're in a competitive market, there will be several sites with information similar to yours. How does yours stand out? The algorithm rewards content that goes beyond the standard and goes deeper into the topics at hand. Again, it's best when done creatively via various media, i.e. your company blog, social media, videos, and graphics.
The Google algorithm has methods of fact-checking and can determine whether the information is obviously false or unreliable. For more reasons than SEO, you need to ensure the information you put out into the world is factual, reliable, and helpful to your website visitors.
Are you using headings and subheadings to summarize information coherently?
Are you creating content that is easy to read? The goal is to make your content easy to find and readable. That means using headings and subheadings to splice up your content into searchable nuggets of valuable information.
Be an Authority
Is your content presented in a way that is authoritative and trustworthy?
Presentation matters. It's a huge green flag when your site and information are referenced by others. This tells Google that you're an authority. So if you want to be at the top of search results, and stay there, then work on *how* you're delivering information along with *what* you're trying to say.
Will visitors find indicators that your site is an authority and should be trusted?
What we mean by indicators are things that would trigger a typical visitor, or Google bot, into believing your site is reputable. Whether that be industry affiliations, articles referencing your company, valid backlinks to your site, etc. This all contributes to whether Google categorizes your site as reliable.
Are you giving expert advice?
At the end of the day, you can't fake being an expert. To really portray authority and knowledge you need expertise. Use the experts on your team to get the best content possible and interview external experts if you need to, but ensure what you're putting out is top-shelf.
Bringing it Home
Is your message being delivered as professionally as possible… or is there room to improve?
You can have a great team, great ideas, and expertise but if you are delivering information in a sloppy manner, that's not going to be good for your brand's reputation or your SEO. Utilize your organization's copyeditor/communication department to clean up the great content you've collected. If you have to go outside your organization, it's worth the investment. The goal is to be an expert and to deliver your knowledge with the same aptitude.
Is content mass-produced?
We've touched on this, but your content should be unique to your site. The Google algorithm ranks content lower when it finds it is "mass-produced." Even if you're using similar ideas as other sites, take the time to recreate the content so that it's unique to your page.
Is it easy to understand?
Again, it's important for your text to be readable. Always, always check your content to make sure you're communicating as clearly and concisely as possible. You want to have good information but you don't want your texts to be too long and convoluted.
Compare and Contrast
When compared to competing sites, does yours seem to be serving the interests of searchers, or does it have an aura of self-interest? Think about some sites you view as authorities (both inside and outside your industry). What is it that gives you the impression that it's trustworthy? You want to take this insight and recreate the concepts you gather to re-invent your site if needed.
Nothing but the EAT
Google also enrolls search quality raters. While these folks don't determine SEO rankings directly, they give Google advice on if it seems their algorithm is working as it should.
It's good to understand how raters are trained because then you'll know what they look for and how you can mold your content with that knowledge.
Raters are trained to search for whether content lives up to Google's E-A-T standard. E-A-T is short for Expertise, Authoritativeness, and Trustworthiness. To learn more, check out this article.
Quick Tips
Broad-core updates happen every few months. If you've made improvements to your site since the last update, don't expect to see those changes reflected in your SEO ranking until the next update is released.
Having said that, Google regularly updated algorithms between updates which means you may still notice some positive change before the next broad core update if you get ahead of needed improvements now.
Finally, don't attach expectations to your site improvements. SEO is impacted by many things and just because you've completed some much-needed improvements *doesn't mean you should expect to jump to the top of search rankings, necessarily. However Google claims that they are constantly searching for relevant content, so focusing on your content is the recipe for success.
Get more marketing advice by browsing our collection of tips and resources, here.
https://taecentralar.com/wp-content/uploads/2022/11/TAE_CA_Blog_-13-1.jpg
661
1897
admin
https://taecentralar.com/wp-content/uploads/2021/05/TAE-Nashville-logo.png
admin
2022-11-03 14:35:39
2022-11-03 18:09:42
Google Broad Core Update: What Website Owners Should Know